History of the Resurgence of Mexican Silver

Beginning in the 1930s, silver workshops clustered in the mining town of Taxco spearheaded a revival in this traditional craft in Mexico, and a renaissance in modern silver was born.

At the same time, the artists and artisans working there took a new direction in design that mixed age-old motifs from native cultures with 20th century Modernism. The objects and jewelry they produced have become extremely popular with discerning collectors. Each piece provides a hands-on aesthetic appeal when used or worn. In other words, this silver makes daily life a little more beautiful, and everyone is able to make their own creative statement using jewelry as their medium.
Mexican silver dinner bell, circa 1960, marked 'William Spratling, Taxco Mexico.'
Any story of modern Mexican silver begins with the biography of artist and author William Spratling (1900-1967), who served as a catalyst for the industry's revival. Born in New York state, he was an associate professor of architecture during the 1920s at Tulane University in New Orleans, where he shared a French Quarter apartment with author William Faulkner. He first traveled to Mexico to study architecture, then became enchanted with Taxco, and moved there in 1929.

Drawn by the inspirational scenery, historical material and rich traditional motifs, as well as the post-revolutionary spirit of the country, many artists and writers lived and worked south of the border. Spratling met American writer Hart Crane, who finished one of his last great poems in Taxco, and became friends with Mexican muralist Diego Rivera, for whom he organized an exhibition in New York. Looking for a way to support himself as an expatriate artist, Spratling noted the city's silver-mining history and opened a workshop, the Taller de las Delicias (Factory of Delights).
Spratling Las Delicias Shop 1946
(Photo by Peter Stackpole/The LIFE Picture Collection via Getty Images/Getty Images)

He would later write: "Nineteen-thirty-one was a notable year in modern Mexican silversmithing. A young silversmith from Iguala named Artemio Navarrete went to Taxco to work for a small silver shop, founded with the germ of an idea, where Artemio as a nucleus, began to form silversmiths. The present writer, encouraged by his friends Moises Saenz, Dwight Morrow and Diego Rivera, had set up that little shop called 'Las Delicias.'"
Much of this was excitement and inspiration was spurred by the discovery in 1932 of the Mixtec and Zapotec treasures in Monte Alban in Oaxaca, a remarkable Mexican archaeological find that influenced jewelry design in Taxco and was as dramatic as the opening of Tutankhamen's tomb in 1925 had affected Art Deco design throughout Europe and the West.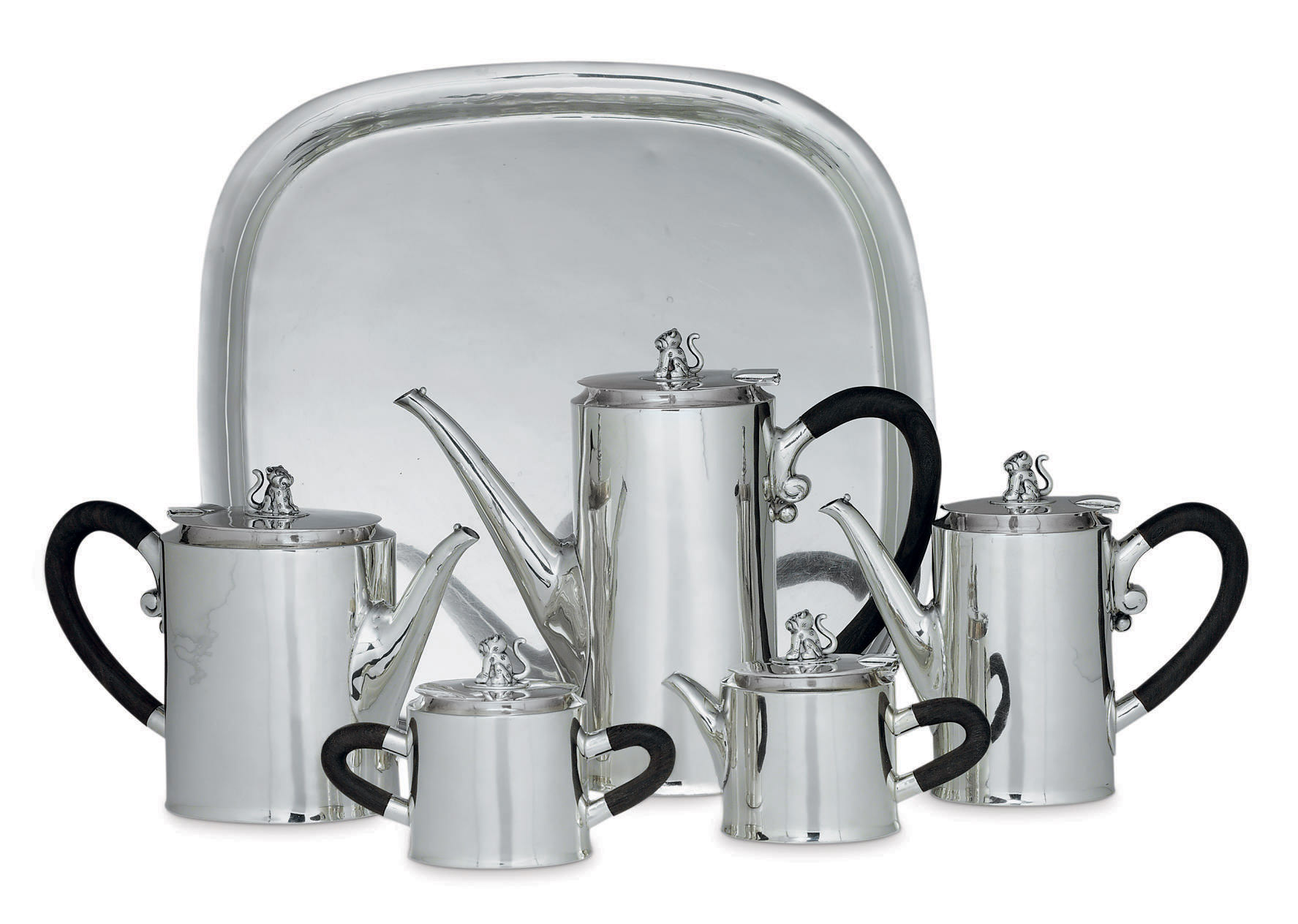 William Spratling Tea / Coffee Serving St

Spratling maintained throughout his life that he became involved with silver as an entrepreneur who needed to make a living. In 1931, encouraged by Ambassador Morrow, he opened his Taxco shop, Taller de las Delicias, where he sold hand-crafted furniture, serapes, tin accessories and his own silver jewelry. The jewelry became so popular that he employed more artisans, and a silver-jewelry boom developed in Taxco that spread eventually throughout Mexico.

The pre-Hispanic motifs Spratling began with were soon mixed with modern Cubist and contemporary folk elements in the highly sophisticated earrings, necklaces, pendants, bracelets and money clips he designed. He was also responsible for combining wood and silver and such semi-precious stones as obsidian, amethyst, onyx, turquoise and jet.
Memorable among his jewelry in this show are early modern designs, some of which appear to be influenced by the Surrealists. There is a pair of silver checkerboard earrings, bracelets and pins incorporating trumpet-like flowers and a pin, echoing Max Ernst, depicts the sun and moon.

Spratling ventured further than most designers in every way. His work is characterized by classic simplicity and he also made serving utensils, pitchers, vessels and trays. In 1944 he was sent by the United States Department of the Interior to do for Alaskan native Americans what he had accomplished with Mexican artisans. He piloted his own plane to Alaska and the Arctic, did about 200 designs based on Alaskan crafts and returned with Alaskan Indians to Taxco to train them. The project had a profound influence on his own work, in which he soon used abstracted Indian images and North Star motifs.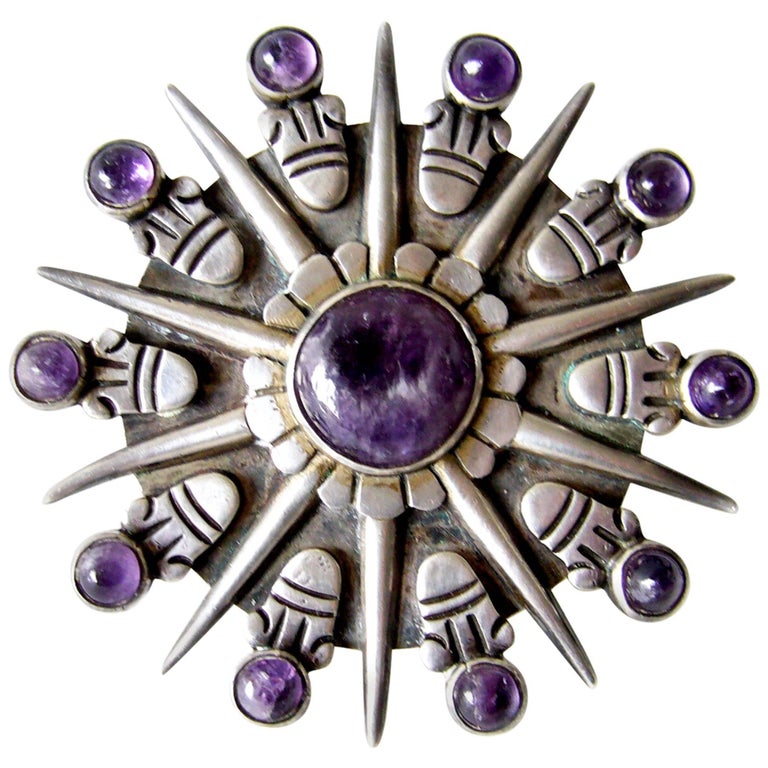 The major authority on Spratling's work is Penny Chittim Morrill, Ph.D., who co-authored Mexican Silver: 20th Century Hand-wrought Jewelry & Silver with art dealer Carole Berk. Morrill served as Guest Curator for the 2002 traveling exhibition William Spratling and the Mexican Silver Renaissance: Maestros de Plata, organized by the San Diego Museum of Art.
In her catalog essay, Morrill wrote, "In establishing silver as an artistic medium, what Spratling achieved was a delicate balance, a synthesis of abstract tendencies in the existent folk art tradition and in contemporary fine art, resulting in a visualization of concepts and ideas.
As importantly, the Taller de las Delicias became the paradigm for other silver designers to follow. Las Delicias was a community in which imagination and innovation were fostered and encouraged as the men learned the art of silversmithing while producing for profit. In the hierarchy of the workshop, these silversmiths advanced according to their ability, enthusiasm, and technical expertise."
Mr. Spratling seated - unnamed silversmiths
Most of the silver sought by collectors today was produced during the 1940s, 1950s, and 1960s. Spratling continued designing jewelry and serving pieces until his death in a car accident near Taxco in 1967. Spratling was the guiding spirit behind the Mexican modern jewelry movement, others contributed highly individual styling.
Frederich (Fred) Davis, another American, came to Mexico before Spratling and was the manager of the Sonora News Company in Mexico City where he would later produce jewelry of elegant simplicity. Outstanding among his square-cut and faceted silver necklaces, pins, bracelets and earrings.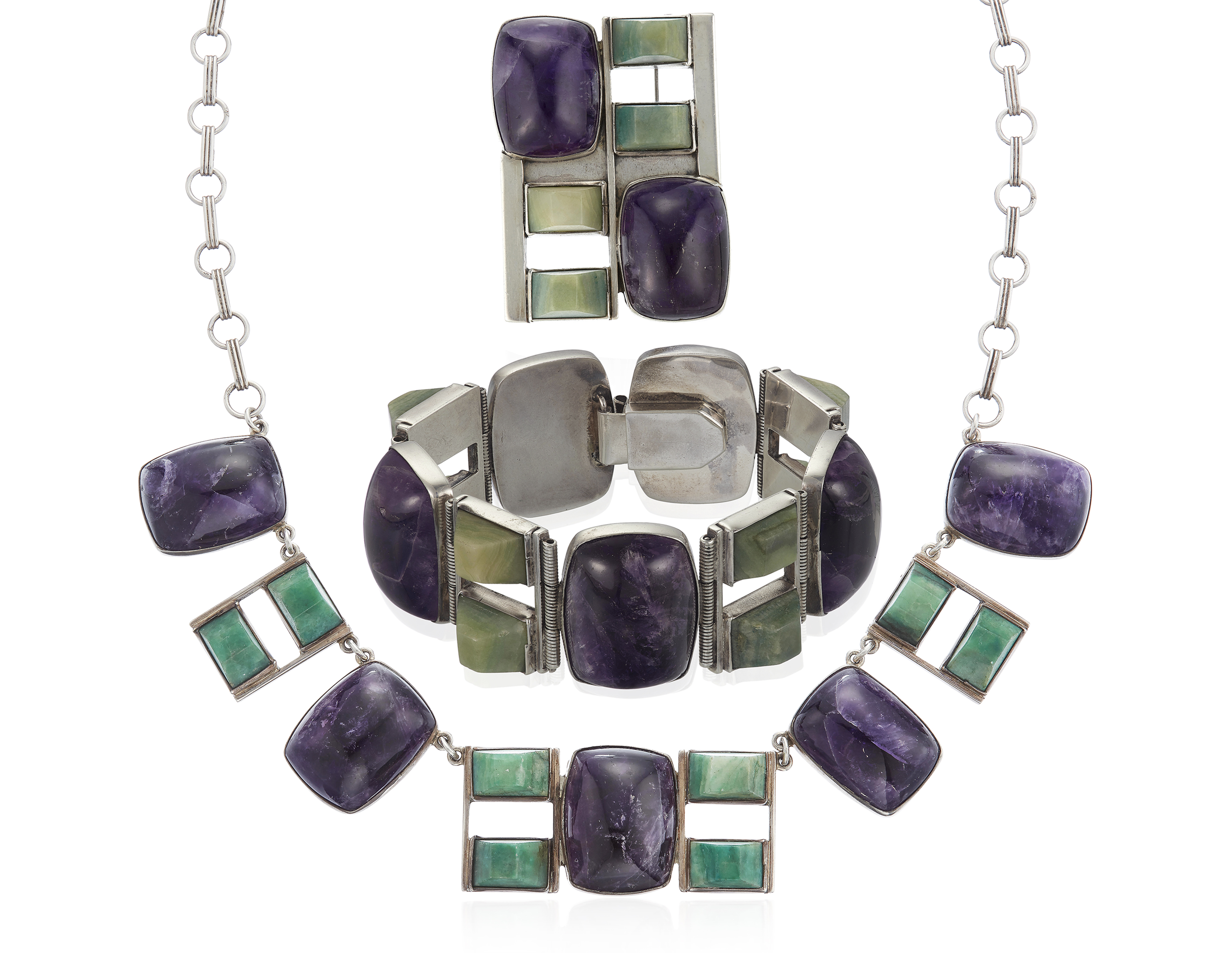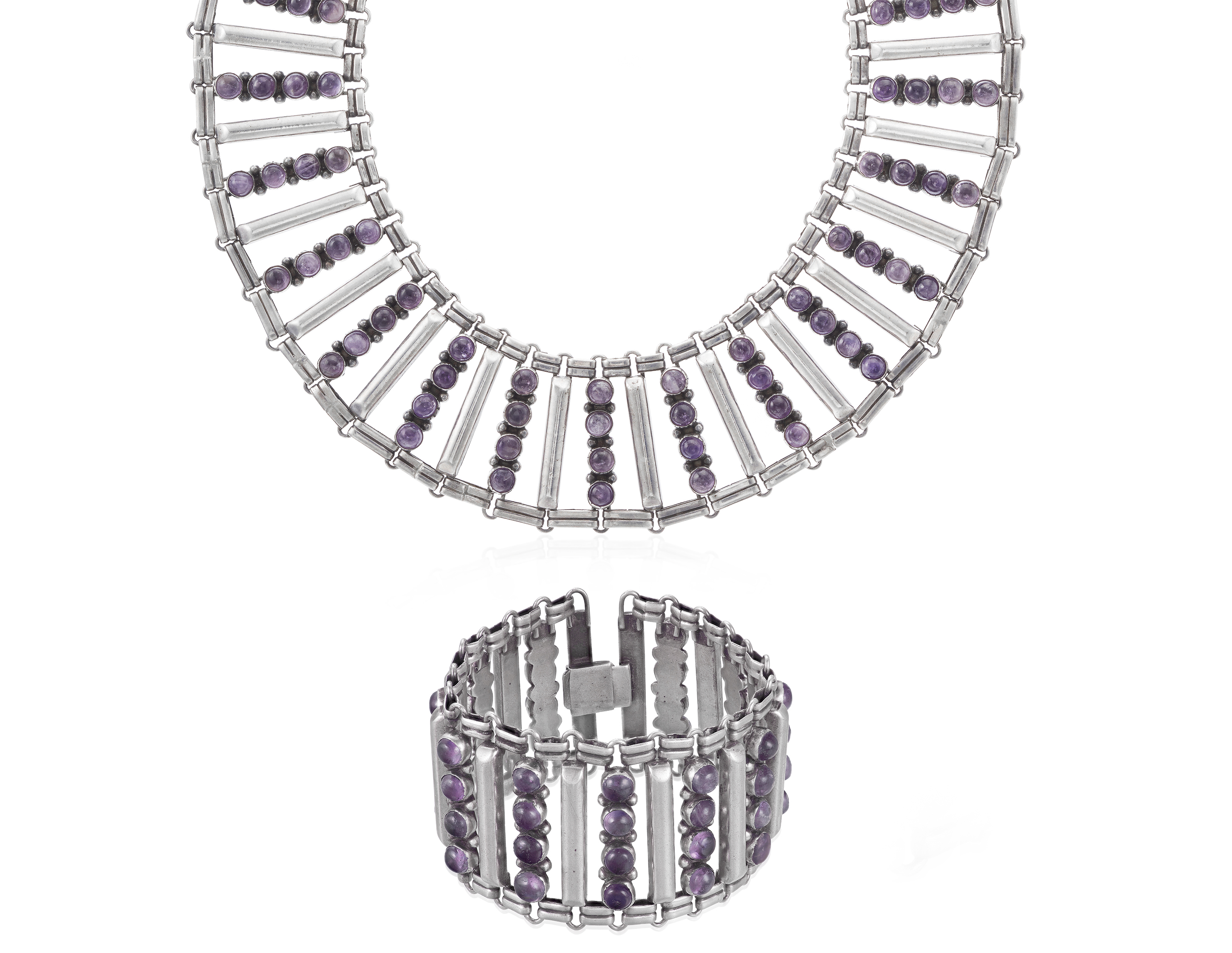 Margot Carr Banburges artistically known as Margo de Taxco was a San Francisco painter who moved to Mexico in the 1920's and was married in the 30's to Antonio Castillo, a master silversmith and jewelry producer, for whom she made her first clips, bracelets, necklaces and earrings.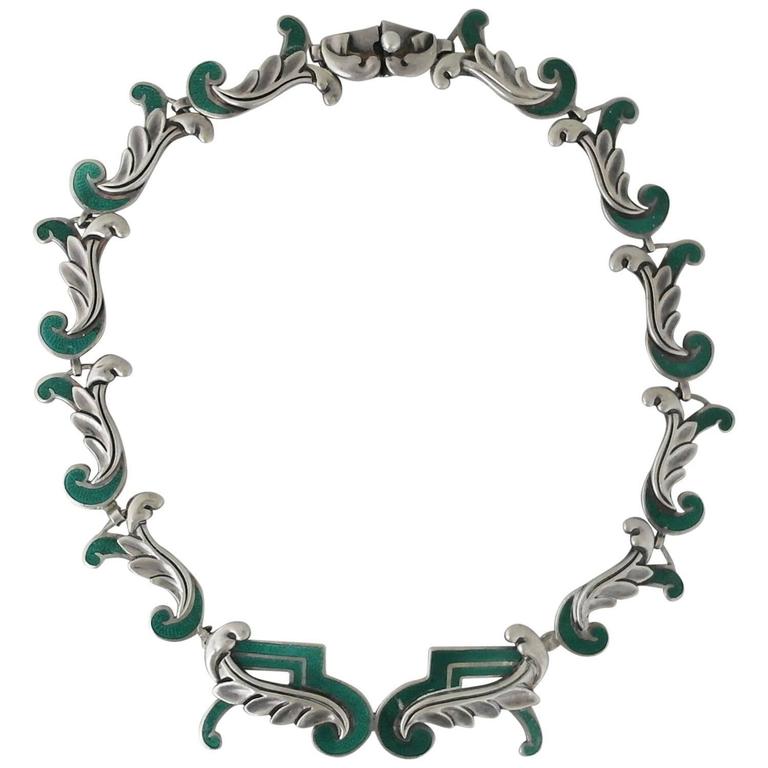 Antonio Castillo and his four brothers were all trained in Spratling's shop before they went out on their own to establish their own Taller, Los Castillo in 1939. He is one of the most prominent of the Mexican jewelry producers which is now in its second generation. The Castillo's were responsible for introducing works that married two or more metals. They also did enameling, feather work, semi-precious stones and sometimes glass, and Aztec mosaics.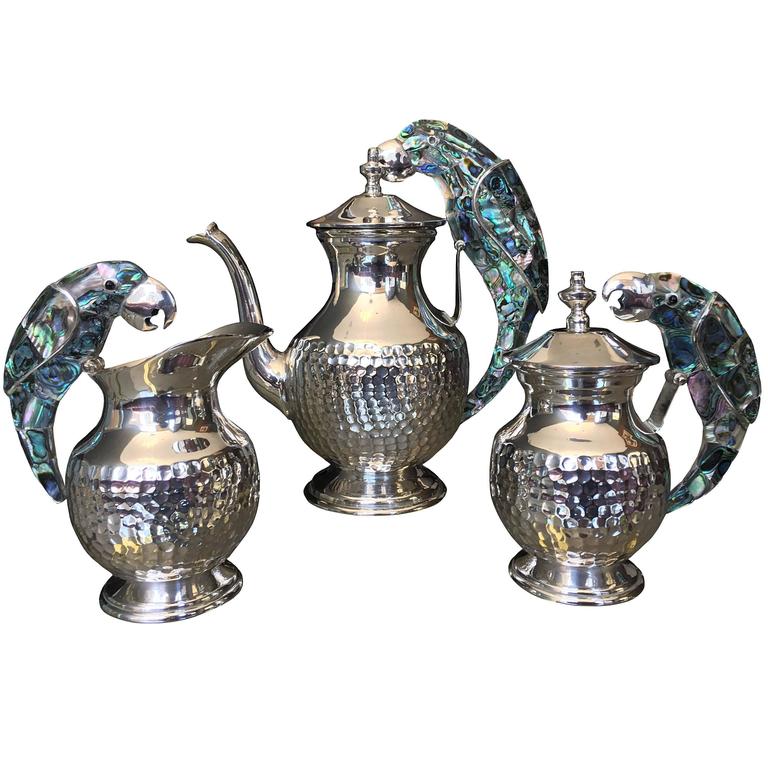 Antonio Pineda, one of the most important silversmith from an artistic point of view was a native of Taxco, who had started in Spratling's first workshop and went on to operate his own shop known as ''Antonio,'' which is the way he also signed his boldly conceived modern jewelry.
Antonio Pineda began his career studying painting at the Open Air School of Taxco, established by Japanese artist Tamichi Kitagawa who lived with his family. After further studies in popular arts and sculpture, he worked as an assistant in Spratling's workshop and opened his own studio in 1941. A 1944 exhibition in San Francisco led to an early commercial coup, when his entire presentation of 80 objects was purchased by a prestigious northern California store, Gump's.
Although he was born into the artistic tradition of Mexico, some of his most successful works of holloware and jewelry are modernist, even futurist in concept. Regarding the sculptural shapes of the circa-1960 tea service design (below), Morrill and Berk commented in Mexican Silver: "Antonio Pineda has molded and manipulated the material to effectively to convey an aesthetic idea. The sugar and creamer and teapot are no longer simply utilitarian vessels, but have taken on the qualities of works of art."
Hector Aguilar was another craftsman with roots in Spratling's enterprise who had managed Spratling's shop, and who left in 1939 and who took a of number of silversmith's with him to found Taller Boda and proceeded to excel on his own. He created mold and organic designs in silver.

The Taxco output ranges from the dramatic silver necklaces and cuff bracelets of great weight made by Spratling's workshop, to the less interesting trinkets made for tourists. Many travelers stopped at the silver-smithing town, just off the main road from Mexico City to Acapulco. Pieces they brought back with them turn up at auctions and antique shows throughout the United States. Evaluating the quality and value of vintage Mexican silver takes considerable study. Sterling – 925 parts silver in a thousand – is the standard, but pieces in higher grade silver were made and may be stamped "970", "980" or even "990."

Penny Morrill said at the time of the Spratling exhibition, "You have to envision this market that was created by Spratling; he created opportunity for thousands. At any one time, there were so many silversmiths working in Taxco itself and a number working in Guadalajara and Mexico City marking their pieces 'Taxco.' They were sending their stuff to Taxco because they knew that was where people were buying."

Morrill noted that even works by unknown makers can have merit: "A lot of the material is in 980 silver, a lot of it is interesting, you put it on, and it makes this incredible statement. I tell people over and over again, if you like it, wear it. If it costs $150, go for it, if it makes you crazy. It may be that one stellar moment when this little silversmith had a wonderful idea."
Kevin Tierney, silver consultant to Sotheby's in New York, has a great admiration for the best Mexican designers and their creations. Tierney said of Spratling, "He woke them up, he combined American know-how with an appreciation of their cultural history. They had the silver, and he provided the employment for artisans who needed it. I love the mix – a bit of European style with the motifs of Mexico enhanced by their superb ability to handcraft the silver."
The Little Book of Mexican Silver Trade and Hallmarks by Bille Hougart is the bible for researching maker marks and authenticating jewelry from Mexico, and is currently in its third printing:
Adapted from, and inspired by original piece by Karla Klein Albertson in Auction Central News
A Few Pieces Available on this Website: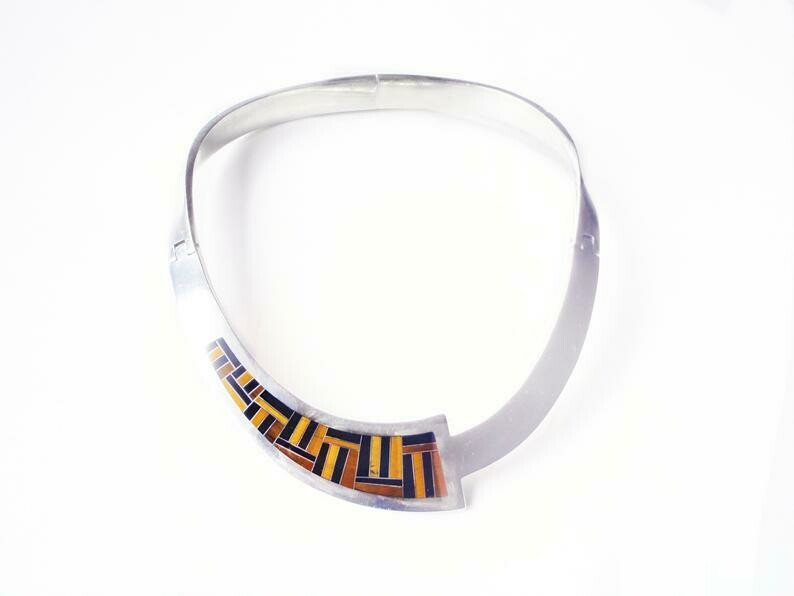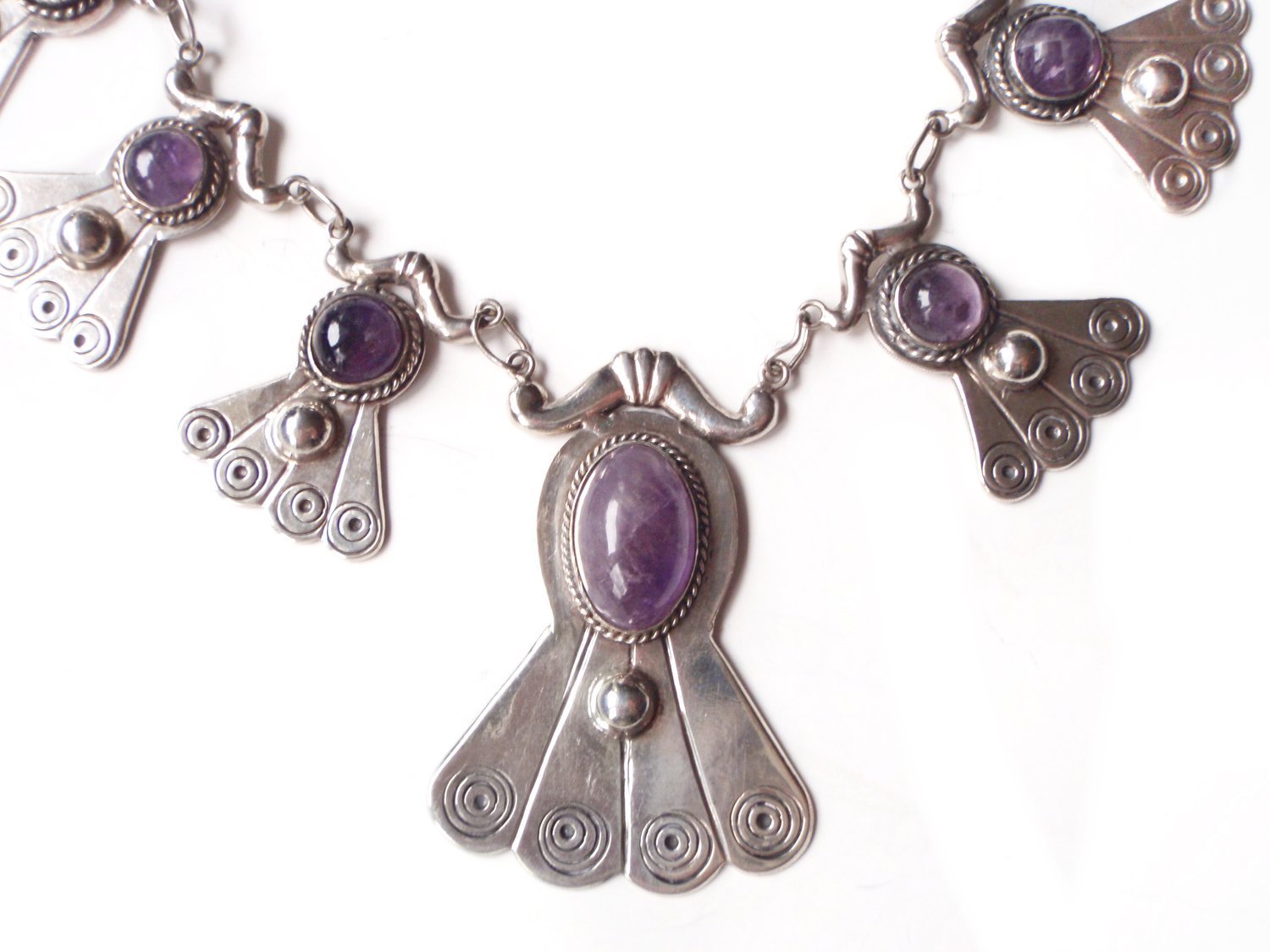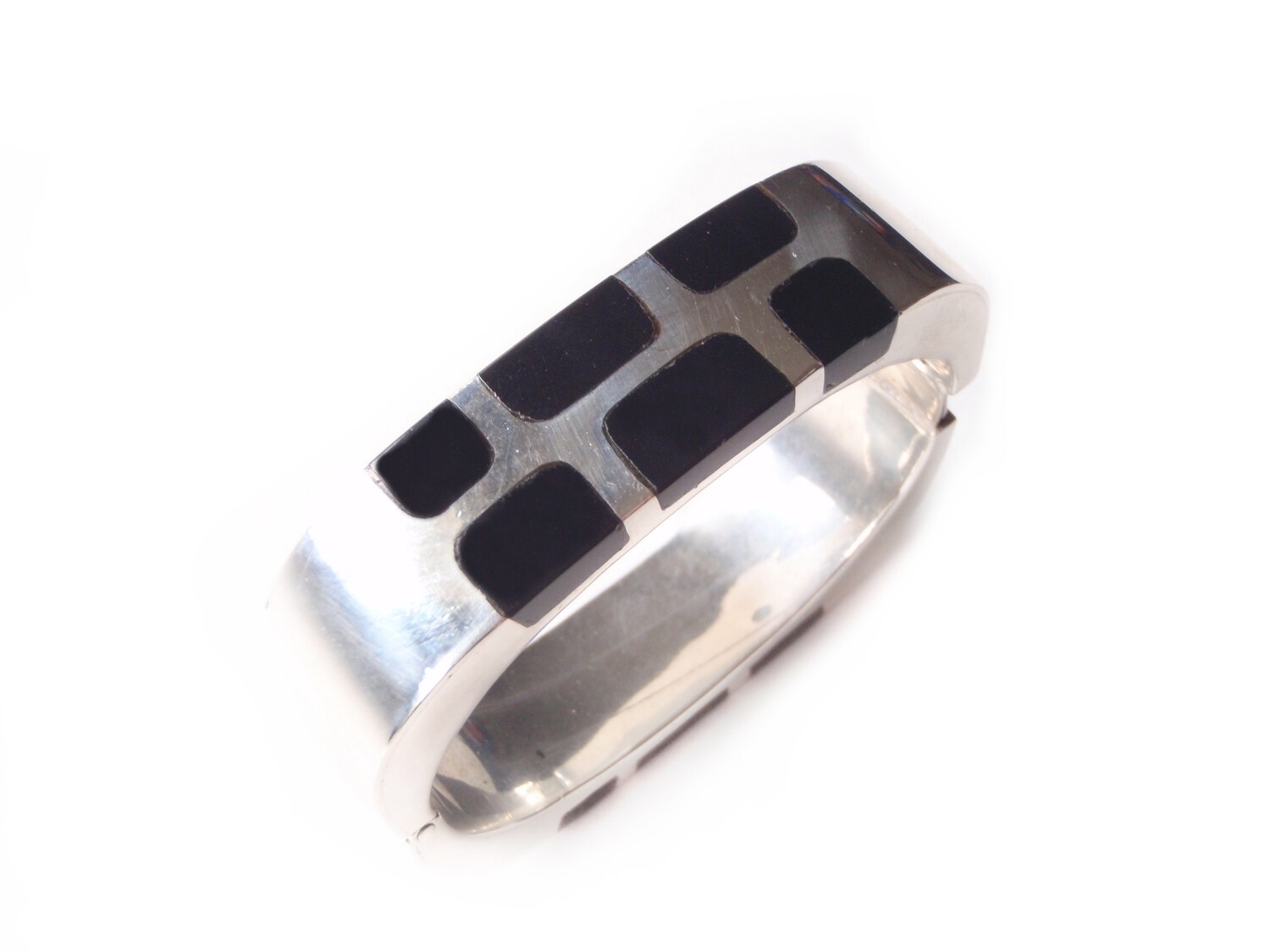 Tags: mexican silver, silver, vintage silver, william spratling, antonio pineda, hector aguillar, fred davis, taxco mexico, margot de taxco, zigi pineda, los castillo